WHO Preventing disease through a healthier and safer workplace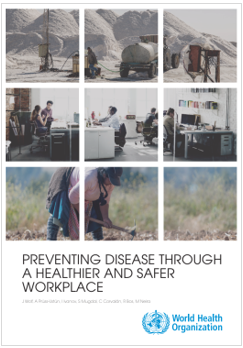 WHO Preventing disease through a healthier and safer workplace
WHO, 29 June 2018
Questa valutazione fornisce informazioni sugli impatti sulla salute che potrebbero essere evitati attraverso luoghi di lavoro più sani e sicuri. Si stima che il 2,1% di tutti i decessi e il 2,7% del carico di malattia a livello mondiale possa essere attribuito a rischi professionali quantificati.
Le malattie non trasmissibili contribuiscono per il 70% al carico totale di malattia dai rischi professionali, con malattie polmonari croniche e cancri che causano il più alto numero di morti legate al lavoro, unite da dolore alla schiena e al collo quando si considera il carico di malattia. I lavoratori nei paesi a basso e medio reddito detengono la quota maggiore di decessi e di invalidità dalle esposizioni sul posto di lavoro.
La relazione identifica chiaramente anche le strategie di prevenzione disponibili per evitare una percentuale significativa di decessi legati al lavoro e del carico di malattia. L'attuazione di tali strategie è importante negli sforzi per raggiungere gli obiettivi di sviluppo sostenibile. L'azione mirata verso luoghi di lavoro più sani e più sicuri contribuirà a migliorare e proteggere in modo sostenibile la vita di milioni di persone in tutto il mondo.
________
CONTENTS
ACKNOWLEDGEMENTS
ACRONYMS AND ABBREVIATIONS
EXECUTIVE SUMMARY
INTRODUCTION
METHODS
Synthesis of disease burden
Review of interventions
OCCUPATIONAL RISKS BY DISEASE
Infectious and parasitic diseases
Respiratory infections
Intestinal infections
Malaria
Schistosomiasis
Chagas disease
Lymphatic filariasis
Onchocerciasis
Leishmaniasis
Dengue
Japanese encephalitis
HIV/AIDS
Sexually transmitted diseases
Hepatitis B and C
Tuberculosis
Other infectious and parasitic diseases
Noncommunicable diseases
Cancers
Mental, behavioural and neurological disorders
Cataracts
Hearing loss
Ischaemic heart disease
Stroke
Chronic obstructive pulmonary disease
Asthma
Pneumoconiosis
Musculoskeletal diseases
Neonatal conditions
Congenital anomalies
Occupational skin diseases
Other noncommunicable diseases
Risks factors for noncommunicable diseases from other areas but related to the work environment
Overweight and obesity
Physical inactivity
Unintentional injuries
Road traffic accidents
Unintentional poisonings
Falls
Fires, heat and hot substances
Drownings
Other unintentional injuries
Intentional injuries
Self-harm
Interpersonal violence
DISCUSSION
The workplace, health and the Sustainable Development Goals
CONCLUSIONS: TOWARDS HEALTHIER AND SAFER WORKPLACES
Key findings
Reducing the burden of unhealthy workplaces
REFERENCES
ANNEX
Methods: Estimating the occupational burden of disease
What is meant by the population attributable fraction of a risk factor?
Calculation of population attributable fractions
Estimating the population attributable fraction
Estimating the burden of disease attributable to the environment
Estimating uncertainties
Table A1. Examples of interventions for worker protection
Table A2. Deaths attributable to occupation, by region, 2015
Table A3. DALYs attributable to occupation, by region, 2015
PHOTO CREDITS
...
Fonte: WHO
Tags: Sicurezza lavoro Abbonati Sicurezza Malattie professionali