FAQs related to Regulation (EU) 2019/1009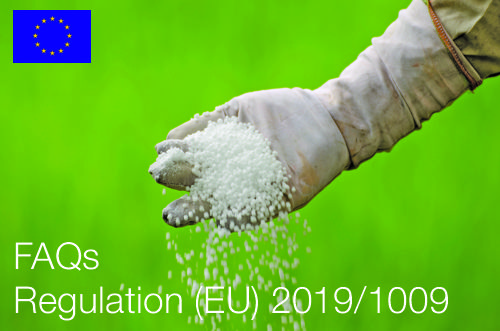 FAQs related to Regulation (EU) 2019/1009 on fertilising products (the 'Fertilising Products Regulation')
EU, 1° agosto 2019
1. What is a fertilising product?
A fertilising product is a substance, mixture, micro-organism or any other material which:
- is applied on plants or their rhizosphere or on mushrooms or their mycosphere,
- or constitutes the rhizosphere or mycosphere, either on its own or mixed with another material,
- and has as a purpose to provide plants or mushrooms with nutrient or improve their nutrition efficiency.
Fertilising products include fertilisers (which provide plants with nutrients), but also other categories of products (such as inhibitors, liming materials or growing media).
For more details on the products concerned, see the question "What is a product function category?".
2. What is an EU fertilising product?
An EU fertilising product is a fertilising product which is CE marked when made available on the market.
A manufacturer is allowed to CE mark a fertilising product only if it:
- meets the requirements for the relevant product function category;
- meets the requirements for the relevant component material category or categories; and
- is labelled in accordance with the labelling requirements set out in the new rules.
3. Can manufacturers still place on the market fertilising products under national legislation?
Yes. Once the new rules of the Fertilising Products Regulation apply, as of 15 July 2022, the manufacturers have the possibility to choose between two options:
- Either to apply the Fertilising Products Regulation and affix the CE mark to their products; thus, these products move freely in the single market, or
- To follow the rules set at national level in one Member State and, if they intend to place their products on the market in another Member State, they have to follow the mutual recognition rules.
[...] segue in allegato
Collegati:


Tags: Marcatura CE Abbonati Marcatura CE Regolamento fertilizzanti