Safety Performance Indicators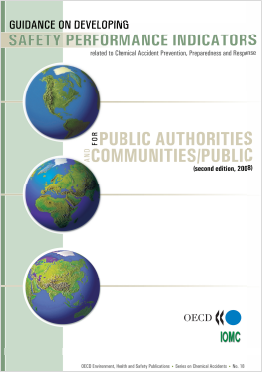 Safety Performance Indicators
Guidance on developing safety performance indicators related to chemical accident prevention, preparedness and response guidance for industry
This Guidance on Developing Safety Performance Indicators ("Guidance on SPI") was created as a complement to the OECD Guiding Principles for Chemical Accident Prevention, Preparedness and Response (2nd ed. 2003) ("Guiding Principles").

The Guiding Principles is a comprehensive document providing guidance to assist industry, public authorities and communities worldwide in their efforts to prevent and prepare for chemical accidents, i.e., releases of hazardous substances, fires and explosions. First published in 1992 and updated in 2003, the Guiding Principles contains best practices gathered from the experience of a wide range of experts, and has been internationally accepted as a valuable resource in the development and implementation of laws, regulations, policies and practices related to chemical safety.

Both the Guidance on SPI and the Guiding Principles are aimed at the same target audiences, recognising that industry, public authorities and communities all have important roles to play with respect to chemical safety and, furthermore, should work together in a co-operative and collaborative way. Through such co-operation, industry can achieve the trust and confidence of the public that they are operating their installations safely, public authorities can stimulate industry to carry out their responsibilities and work with communities to ensure proper preparedness, and communities can provide chemical risk and safety information to the potentially affected public and help to motivate industry and public authorities to improve safety. The Guiding Principles include "Golden Rules," highlighting some of the most important concepts contained in the Guiding Principles.

Annex III of this Document contains a complete copy of the Golden Rules. Some of the key responsibilities include:

Owners/managers of hazardous installations should:

– know what risks exist at their hazardous installations;
– promote a "safety culture," which is known and accepted throughout the enterprise;
– implement a safety management system, which is regularly reviewed and updated;
– prepare for any accident that might occur.

Workers at hazardous installations should:
– make every effort to be informed and to provide feedback to management;
– be proactive in helping to inform and educate the community.

Public authorities should:
– provide leadership and motivate stakeholders to improve chemical accident prevention, preparedness and response;
– develop, enforce and continuously improve regulations, policies, programmes and practices;
– help ensure that there is effective communication and co-operation among stakeholders.

The public should:
– be aware of the risks in their community and what to do in the event of an accident;
– co-operate with local authorities and industry in emergency planning and response. Thus, the  Guiding Principles provides insights on the policies, practices and procedures (including human resources and technical measures) that should be in place to reduce risks of chemical accidents and to respond should an accident occur. This Guidance on SPI was prepared to assist enterprises determine whether their own policies, practices and procedures operate as intended and achieve their desired results and, if not, what improvements should be made.
OECD 2008