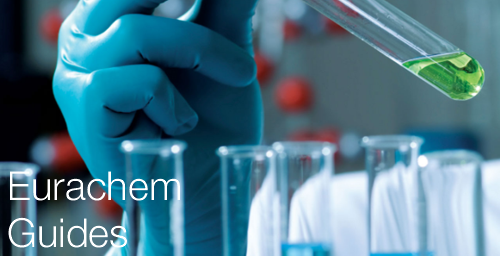 Eurachem Guides
ID 8653 | 28.06.2019
Raccolta delle Guide pubblicate da Eurachem dal 1998 al 2019:
- Quality assurance, accreditation and terminology
- Proficiency testing
- Measurement uncertainty and validation
- Traceability and reference materials
Quality assurance, accreditation and terminology
01. Guide to Quality in Analytical Chemistry: An Aid to Accreditation (2016)
02. Accreditation for Microbiological Laboratories (2013)
03. Quality Assurance for Research and Development and Non-routine Analysis (1998)
04. Terminology in Analytical Measurement: Introduction to VIM 3 (2011) 
Proficiency testing
05. Selection, Use and Interpretation of Proficiency Testing (PT) Schemes by Laboratories (2011)
Measurement uncertainty and validation
06. Quantifying Uncertainty in Analytical Measurement, 3rd Edition (2012)
07. Measurement uncertainty arising from sampling, 2nd edition (2019)
08. Use of uncertainty information in compliance assessment (2007) 
09. Setting target measurement uncertainty (2015) | Translations available
10. The Fitness for Purpose of Analytical Methods: A Laboratory Guide to Method Validation and Related Topics (2014)
11. Harmonised Guidelines for the Use of Recovery Information in Analytical Measurements (1998)
Traceability and reference materials
12. Traceability in Chemical Measurement, 2nd edition (2019)
13. The Selection and use of Reference Materials (2002)
...
About Eurachem
Eurachem è una rete di organizzazioni in Europa, con l'obiettivo di stabilire un sistema per la tracciabilità internazionale delle misurazioni chimiche e la promozione di pratiche di buona qualità. Fornisce un forum per la discussione di problemi comuni e per lo sviluppo di un approccio informato e ponderato per questioni tecniche e politiche.
L'adesione a Eurachem è aperta ai paesi dell'Unione europea e all'Associazione europea di libero scambio, alla Commissione europea e ai paesi europei riconosciuti dall'UE e dall'EFTA quali Stati candidati all'adesione. Altri paesi e organizzazioni europei interessati alla qualità delle misurazioni analitiche possono partecipare a Eurachem come membri associati o osservatori. Eurachem ha attualmente 34 paesi membri.
Eurachem promuove le migliori pratiche nella misurazione analitica producendo una guida autorevole all'interno dei suoi gruppi di lavoro esperti, pubblicando guide sul web e supportando workshop per comunicare buone pratiche. La guida copre aspetti tecnici come la valutazione dell'incertezza di misura, la convalida del metodo e le prove di competenza.
Eurachem lavora anche attraverso i contatti con gli organismi di accreditamento e altre organizzazioni con interessi nella qualità della misurazione per contribuire a garantire politiche di accreditamento pratiche e promuovere disposizioni tecniche ragionevoli nella regolamentazione.
Fonte: Eurachem 

Tags: Chemicals Abbonati Chemicals